Welcome to Haiti On The Rise, and Thank You for Visiting Us Today!
Haiti On The Rise is a nonprofit organization committed to supporting the people of Haiti in building vibrant communities. Through ongoing physical, social, and sustainable infrastructure projects, we assist the Haitian people in improving their quality of life.
Recovery from the devastating 2010 Earthquake has been painfully slow and further complicated by Hurricane Matthew in October 2016. Therefore innovative thinking and tremendous support is required to create a synergistic effect that will help the Haitian people.
With the motto "men anpil, chay pa lou," a Haitian proverb that means "many hands lighten the load," Haiti On The Rise is committed to saving lives and transforming communities. We partner with those who have been working for centuries in Haiti to improve the living conditions of the unfortunate. By doing so, Haiti On The Rise enhances the impact of those who are already making a difference. Please help us make our vision of Haiti become a reality.
Areas of Focus
Education
Haiti has a very limited public education system, thus most students' only option is to attend private school. Although tuition is inexpensive by western standards, many families cannot afford it, and their children stay home or only attend school irregularly. This has led to a 39% illiteracy rate and few economic opportunities. Haiti On The Rise is committed to making a difference by contributing towards rebuilding the education infrastructure and helping children and adults attend school.
Reconstruction
Seven years have passed since the 2010 Earthquake and many victims are still living in shipping containers or tents. Haiti On The Rise is committed to helping the people of Haiti reconstruct homes, schools, churches, and community centers.
Healthcare
The people of Haiti struggle with an overburdened and undersupplied healthcare system, problems exacerbated by the 2010 Earthquake and recent Hurricane Matthew. Haiti On The Rise is committed to improving the health of the community through local partnerships to teach preventive medicine practices and personal hygiene.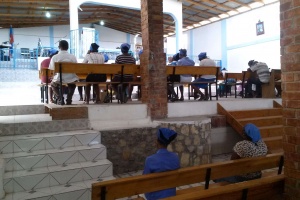 Pastoral Endeavors
Faith is essential in the lives of the Haitian people. Faith gives them enduring strength, allowing them to persevere through life's hardships, overcome insurmountable situations and carry on. Haiti On The Rise is committed to supporting this fundamental component of the Haitian culture. By helping to restore and rebuild community and faith centers that have been destroyed, people of faith will be able to gather and support one another once again.